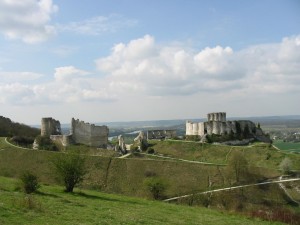 If you are adventurous while staying in Paris, go rent a car and take a couple of day trips outside Paris. If you decide to do this, I suggest you purchase and take a GPS system with you. Sandy and I use the Garmin® nüvi 1370T. I'm not sure whether this model still exists but whatever you settle on, make sure it includes France and any other country you decide to visit.
There are 3 destinations pretty much in a straight line from Paris: Giverny, Château Gaillard, and Rouen. The town of Giverny is where you will find the home and studio of one of the greatest French impressionists, Claude Monet. Yes, the gardens are fantastic and the bridge, lilies, and flowers he painted are still there. The city of Rouen, approximately 59 miles from Paris, still maintains much of its medieval flavor. It was here that Joan of Arc was imprisoned (the tower she was tortured in still exists), tried, and burned at the stake.
It is the Château Gaillard that most people miss. It is located midway between Rouen and Giverny. Situated on a hill outside the small town of Les Andelys and overlooking the bend in the river Seine, the fortress was built in 1197 by King Richard the Lionhearted (yes, the king of the Robin Hood fable).
Although in ruins, this is a castle you don't want to miss. It has such a historical presence and played a major role during the conflict between England and France in the late 12th and early 13th centuries. Château Gaillard was a crown jewel coveted by both the French and the English from its inception to the end of the Hundred Years War. It was considered to be a key possession for a king desiring to rule over Normandy.
After King Richard I (the Lionhearted) was released from captivity (he was captured returning from the Third Crusade and spent a year as prisoner of Henry VI, Holy Roman Emperor), he began to build a series of castles to defend his duchy of Normandy. Château Gaillard, sitting high (300 feet above les Andelys) on a hill of limestone overlooking the bend in the river Seine, was one of the most formidable fortresses Richard would build.
The castle was begun in 1197 and took less than 2 years to build (a medieval castle normally took 10 years to build). The construction cost on this one fortress was more than double the combined cost of his other castles. More than 6,000 laborers worked on this project and when it was done, Richard would exclaim "What a gaillard (well fortified) castle!" The immediate need for this castle was to prevent King Philippe II Augustus from invading Normandy. Much of the original vegetation planted around the castle came from the Middle East with the Crusaders and centuries later, much of the vegetation you see are direct descendants.
Historians think Richard designed every aspect of the castle (he personally oversaw the construction likely resulting in the short time it took to construct). It was a complex design for its time and was one, if not the first, of structures built in a concentric manner. As such, the fortress had no dead angles (i.e., blind spots). The castle was one of the first to be designed so projectiles could be hurled through portals in the walls down onto the attackers below (notice the arrow slits built into the thick walls). Many of Richard's ideas came from structures he encountered during the Crusades.
ROYALTY                                 BLANCHE AND MARGARET
Blanche of Burgundy (1296–1326) and Margaret of Burgundy (1290–1315) were future queens of France (they were married to the sons of King Philippe IV: Louis X and Charles IV, respectively). Unfortunately, they committed adultery in what was to be known as The Tour de Nesle Affair. This had several adverse effects. First, their father-in-law had their boyfriends were tortured, flayed, and executed. Second, the king had Blanche and Margaret imprisoned underground in the Château Gaillard. After 2 years of imprisonment, Margaret died of exposure to the elements. Blanche on the other hand, was luckier. She actually became the French queen but Charles IV had her agree to an annulment of the marriage. Little is known of her activities after the annulment—possibly dying as a nun.
During the Hundred Years War, possession of Château Gaillard went back and forth between the French and the English, as did most of the major fortresses in Normandy. By 1449, the English forces withdrew from Normandy and Château Gaillard was returned to French for the final time. More than a hundred years later, King Henri IV ordered the demolition of the castle.
There are tons of other day trips outside Paris. Many of them are accessible by train. When the trains aren't an option, don't be afraid to rent a car and explore.
Do we have a lot of stories? Of course we do. I'm looking forward to sharing these with you. Please continue to visit our newsletter and blog. Perhaps you'd like to subscribe so that you don't miss out on the most recent newsletter and blog posts.
Thanks so much for following my newsletter and blogs as well as my little journey through this incredibly interesting process of writing a series of niche walking tour books based on European historical periods or events.
Please note that I do not and will not take compensation from individuals or companies I mention or promote in my blog.
Are you following us on Facebook and Twitter?
Copyright © 2015 Stew Ross