For all you "Boomers" out there, I'm about to take you on a nostalgic trip back to the heady days of rock & roll.
Just one hour outside Paris stands the Château d'Hérouville. It was built in 1740 in the small village of Hérouville. The château replaced the original building that was constructed in the 1500s. It was used as a relay station for riders between Versailles and Beauvais and at its zenith, the château stabled more than 100 horses. Chopin used the chateau during the mid-19th century to carry on his affair with George Sand. During the 1970s it also stabled a "who's who" of legendary rock bands and performers.
Michael Magne purchased the château in 1962 and turned it into a recording studio (he called the studio The George-Sand). Beginning in 1971, recording artists began to show up at the château to record their latest song or album. The Grateful Dead was supposed to perform at a local festival but got rained out. Jerry and the boys put on an impromptu show for the townspeople including the police, firemen, and everyone else. The Dead laced the wine with LSD and the firemen frolicked nude in the swimming pool during the "concert." 
Grateful Dead at Château d'Hérouville: 21 June 1971
Over the next eight years, artists such as Pink Floyd, T. Rex (remember them?), David Bowie, the Bee Gees (Saturday Night Fever), Cat Stevens (Catch Bull at Four), Fleetwood Mac, and Jethro Tull showed up at the château.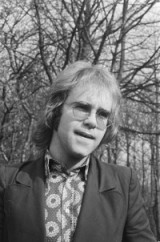 The one artist that immortalized the château was Elton John. Over a two-year period, Elton (now Sir Elton) recorded Goodbye Yellow Brick Road (one of my favorites), Don't Shoot Me I'm Only the Piano Player, and his fifth album, Honky Château (named after Château d' Hérouville). The grand Steinway piano he used to record Benny and the Jets (and all the other songs) is still in the attic.
Over the years, legal and financial problems resulted in Magne selling the château. He committed suicide in 1984 and within a year, the recording studio was shut down. The château and its grounds were left unattended and over time, the homeless took it over.
The BBC is reporting that the château was purchased by four men who are pumping money into not only restoring the château and the grounds but also building a new recording studio (they will call it George-Sand). Over time, they hope to turn the château into a place for multimedia creation (e.g., sculpting, painting, writing, etc.).
Next time you're looking for a day trip outside Paris, why don't you go visit the Château d'Hérouville? Maybe Louis XVI and Marie Antoinette never visited the château but the kings and queens of rock and roll came here to record some of our favorite songs and albums. Be sure to stand on the main stairs and hum a tune. These stairs are known as "The Bee Gees Stairs" because the group stood here and recorded their songs due to the excellent acoustics.
BBC REPORT: THE RETURN OF THE HONKY CHÂTEAU
Oh, as an added feature, Vincent van Gogh is buried nearby.
We need your help
Please tell your friends about our blog site and encourage them to visit and subscribe. Sandy and I are trying to increase our audience and we need your help through your friends and social media followers.
Thank You
Sandy and I appreciate you visiting with us. We have some exciting things on the horizon and we'll keep you updated as we go along.
What's New With Sandy and Stew?
I spent two and a half months in Florida with Sandy going back and forth to Nashville. During that time I was fortunate to participate in an Author Day held by one of the local bookstores as well as give a presentation to about 20 people at the Jacaranda Trace retirement community (in Venice). We met some very interesting people including a gentleman who played for the Dallas Cowboys in the early 1960s under Tom Landry.
Stew is working on creating the walks and individual stops for the next books: Where Did They Put the Gestapo Headquarters?—A Walking Tour of Nazi Occupied Paris (1940–1944). It's clear that almost every building in Paris has a story associated with the Occupation years. It is a matter of identifying them and then prioritizing the stops for you. This is quite a process considering the tangents and rabbit holes I end up going down. But it is a lot of fun if not quite depressing at times. One of my friends, Mark Vaughan, has suggested a walking tour book based on Napoléon. What do you think?
We have a lot of stories and we're looking forward to sharing these with you. Please continue to visit our blog site and perhaps you'd like to subscribe so that you don't miss out on our blog posts, past and current.
Follow Stew:

Find Stew's books on Amazon and iBooks.
Please note that we do not and will not take compensation from individuals or companies mentioned or promoted in the blogs.
Copyright © 2016 Stew Ross