I've written about the Paris Catacombs in prior blog posts. That is probably the creepiest spot in Paris. But there are many other sites that we could slap the label of "creepy" onto. Remember the bar and jazz club that had the only 1792 model of a guillotine once on public display?
Well, one of the areas that we went to see had nothing to do with the French Revolution. In fact, this story started before the Revolution and ended before World War One. It's the story of two prisons constructed on a street that connected the Place de la Bastille and Pere Lachaise Cemetery: rue de la Roquette.
There were once two prisons located where rue Croix-Faubin dead-ends into rue de la Roquette (11th district): la Grande Roquette and la Petit Roquette. The area was once a marsh filled with small purple-striped flowers called "wild roquette." In 1639, the nuns of Notre-Dame-de-la-Charité built a small hospital here. During the French Revolution, the nuns were forced to abandon their site and it was turned into a spinning mill (the building can still be seen at 125 rue de la Roquette).
In 1830, la Petite Roquette was built to house young offenders and later converted to a women's prison (today, the site is a small park and only the original gate exists). By 1836, la Grande Roquette was built across the street for the purpose of housing convicts and condemned prisoners. Between 1836 and its demolition in 1900, sixty-nine public executions were held in the Square de la Roquette. The approximate area is now where rue Croix-Faubin and rue de la Roquette meet.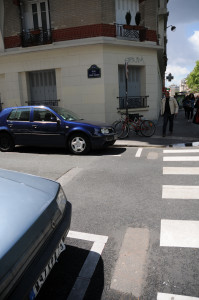 If you look at the pavement on rue Croix-Faubin near the intersection, you will see five stone slabs embedded in the pavement.
This is the exact spot where the scaffold and guillotine were erected for those public executions.
These slabs were placed here to ensure the scaffold (and guillotine) was erected straight, upright, and perfectly vertical.
I'm sure Tobias Schmidt and Dr. Guillotin didn't design their apparatus to have the blade get stuck three-quarters of the way down. Clearly, that would not have met Dr. Guillotin's definition of a "humane" execution.
Known by prisoners as the "Five Stone Abbey," the men's prison entrance was located approximately 50 feet down the rue Croix-Faubin while the women's prison entrance can still be seen at the entrance to the "new" Square de la Roquette. The actual guillotine itself was housed in the "Widow's Hangar" located today at 60, rue de la Folie-Regnault.
The women's prison was demolished in 1974 with the men's prison facing its end around 1900.
Do we have a lot of stories? Of course we do. I'm looking forward to sharing these with you. Please continue to visit our blog.
Thanks so much for following my blog and my little journey through this incredibly interesting process of writing a series of niche historical travel books and then getting the bloody things published.
-Stew
Please note that I do not and will not take compensation from individuals or companies I mention or promote in my blog.
Are you following us on Facebook and Twitter?
Copyright © 2013 Stew Ross