Aunt Gwen passed away last week.
Upon hearing the news, I paused to reflect on the interactions I had with her those many years ago. She was married to Uncle Hal, my mother's brother. This somehow led me down the path of thinking about my three uncles. Besides being related to me, they had one thing in common: they all fought in World War II.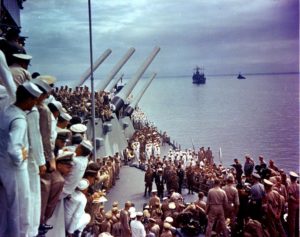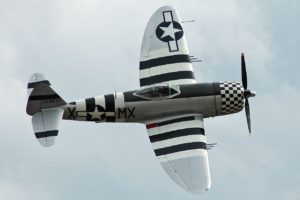 My father's brothers fought in the Pacific: Uncle Pete was in the army fighting in the Pacific (Burma) while his brother Bill commanded a sub chaser (his ship tied up to the battleship Missouri in Tokyo Bay to protect it during the formal ceremony ending the war). Uncle Hal was a P-47 Thunderbolt fighter pilot stationed in England and his 97 missions were to attack key German targets over Europe.

All of my uncles are now deceased.
Click on the subtitle above to read Tom Brokaw's story about his junior high school teacher, Mr. Holm. I haven't read Mr. Brokaw's book, The Greatest Generation, but if it tells stories like the one in this article, I'm going to purchase the book, read it, and make it a permanent part of my library.
I once mentioned to my mother that Uncle Hal should contact the Smithsonian Museum because they were interviewing men and women who fought in World War II for the purpose of recording and memorializing their experiences. She said, "Stew, he would never do this. You see, after he returned home from the war, he never spoke about it."
Jacques and Normandy Beach
Many years ago, Sandy and I hired Jacques to be our personal guide for a day touring the Normandy beaches and other significant D-Day areas around the coast. After twenty-five years as a professor at the Sorbonne, Jacques retired to become a full-time guide with a specialty focus on Normandy and D-Day (Jacques grew up in Caen and as a young boy was wounded in the neck on 6 June 1944).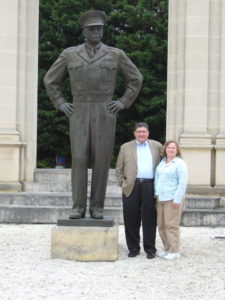 Over time, Jacques became one of the top guides taking dignitaries on tours as well as consulting on movies (e.g., Saving Private Ryan). He was also highly sought out by the survivors of the battle who returned decades later to visit the beaches. As you can imagine, Jacques gathered up first hand accounts of the battle and its carnage from these men as well as becoming knowledgeable about where many of the events and actions took place.
Eventually the men stopped returning and in their place came their children. They hired Jacques to take them to see where Dad had fought. What Jacques found was that the men never told their children of their personal war time experiences—the children were clueless.
The last time we saw Jacques, he told us that the children have pretty much stopped returning and in their place now, the grandchildren are visiting the beaches. As he accompanied this younger generation, he found out that the grandchildren were very knowledgeable about their grandfather's wartime experiences. It took all that time before the men would (or could) discuss the horrific events they took part in but they finally shared it with the grandkids.
STEW ROSS DISCOVERS
We picked our logo because it depicts someone getting out and experiencing a travel adventure. It says, "Go out and discover a new experience even if it's raining."
I hope you all will have the opportunity to travel and benefit from visiting places you've never been to. Please don't hesitate to contact us if you need a reference for a private guide.
Militant Attacks, Strikes, and Flooding
Sandy and I were scheduled to go to Paris this month as part of our research for the next book (Nazi occupation of Paris). We made the decision not to go and it was based not on the terrorism issue but because of the labor unrest going on in Paris and France. We feel that if we alter our travel plans based on terrorism issues, then we've let the terrorists win. However, we need the Métro to be working in order to accomplish our tasks.
This caught my eye and I thought I'd share this recent BBC article with you:
There were 1.0 million fewer visitors to Paris in the first six months compared to same time period in 2015. The estimated cost in lost revenue during to Paris during these six months is €750 million or approximately US$850 million.

Approximately 16 million visitors visit Paris each year.

Tourism generates more than 7.0% of France's GDP.

Just in the Ile-de-France department (where Paris is located), about a half-million jobs are linked to tourism. Hotel stays in the region are down 8.5% (11.5% for foreign visitors and 4.8% for French citizen tourists).

By nationality, the decline is comprised of the following: 46.2% Japanese, 35% Russian, 19.6% Chinese, and 5.7% United States.
The Paris region tourist board head Frederic Valletoux calls the situation an "industrial disaster."
Someone Is Commenting Ou Our Blogs
Thank you to our friend Daniel J. from the UK for commenting on one of our blog (and book) topics. Daniel wanted to know if I had confirmed the exact spot where the guillotine had been set up for Louis XVI's execution. He had some interesting comments about various potential locations—many of which I ran across during my research. I did confirm the spot and it is included in my book Where Did They Put the Guillotine. In fact, I point out the eight primary sites where the National Razor was erected during the French Revolution.
Keep your comments coming. I love hearing from you.
We need your help
Please tell your friends about our blog site and encourage them to visit and subscribe. Sandy and I are trying to increase our audience and we need your help through your friends and social media followers.
Thank You
Sandy and I appreciate you visiting with us. We have some exciting things on the horizon and we'll keep you updated as we go along.
We have a lot of stories and we're looking forward to sharing these with you. Please continue to visit our blog site and perhaps you'd like to subscribe so that you don't miss out on our blog posts, past and current.
Follow Stew:

Find Stew's books on Amazon and iBooks.
Please note that we do not and will not take compensation from individuals or companies mentioned or promoted in the blogs.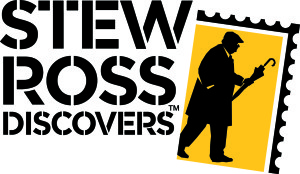 Walks Through History
Copyright © 2016 Stew Ross