Well I've said it before, if you can hire a private guide for trip specific themed walks, do it! What I mean is if you want to visit or explore a specific subject in a city, hire a knowledgeable guide.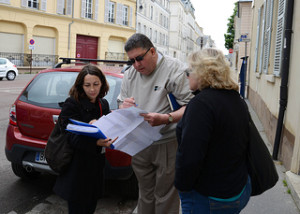 For our trip to Paris I wanted to visit Versailles – not specifically for the general palace tour (been there, done that) but for the events that were significant to the Revolution. In other words, those events that occurred between May and October 1789. There were three primary events during this time frame: the meeting of the Estates General (4, 5 May), the September massacres (9 September), and the events leading up to the return of the royal family to Paris (5,6, October).
I needed an expert guide for the Versailles segment of our trip. I had researched Paris but decided it would be much more efficient to use the guide for Versailles. I searched a long time for the right guide but never did I realize I would get someone like Raphaelle.  She is a professional tour guide who is working on her own now. I've never had a private tour guide come as well prepared as she did.
One of the ways I know to hire a particular guide (i.e., without using the services of an agency) is to ask very specific questions pertaining to the subject I want covered. I knew that she had a specific knowledge of these events early on during our initial e-mail conversations. However, I never imagined she would show up having done such in-depth research that prepared her to show me among other things, the exact routes that people took, apartments where the delegates lived, and cafés where the delegates gathered to discuss the day's events.
Sandy and I flew into Paris (CDG) with our nephew, Dan Owen and landed at 7:15AM. By 9:30AM, we were at the Trianon Palace Versailles Hotel. We had arranged to meet Raphaelle at the hotel at 10:30AM. She was there by 10:00AM and we were off. We didn't stop until that evening at 7:00PM and it was a full day of walking and seeing the buildings, places and sites significant to the three events.
I'm very glad that I made arrangements to hire Raphaelle for our day long walking tour that I'm calling, "The Route of the Tumbrils: Marie Antoinette's Last Ride." This one is all about the route that the tumbrils took starting at La Conciergerie and ending at the scaffolding set in the Place de la Revolution (now the Place de la Concorde). In between, we will stop at various locations that I think have some interest to the students of the French Revolution (e.g., Robespierre's apartment on rue St. Honorè. One of the other smart decisions I had was to bring Dan along with us. He is a professional photographer. All of the pictures you'll see are ones that Dan took.
Do we have a lot of stories? Of course we do. I'm looking forward to sharing these with you. Please continue to visit our blog.
Thanks so much for following my blog and my little journey through this incredibly interesting process of writing a book and then getting the bloody thing published.
-Stew
Please note that I do not and will not take compensation from individuals or companies I mention or promote in my blog.Are you following us on Facebook and Twitter?
Copyright © 2013 Stew Ross