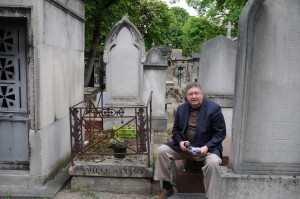 Always Enough To Do
How many times have you visited a city you've always wanted to see, and allotted, a certain amount of days only to find out once you get there that you can see everything in half the time?
Yet there are other cities that it doesn't matter how many times you return there is always enough things to do, to learn, and experience.
That is the uniqueness of Paris.
There aren't that many cities in the world that you return to for the twelfth time and you're still experiencing new things. There's London, Rome, Tokyo, and New York City to mention a few.
I would never discourage first timers to Paris to disregard the Eiffel Tower, the Louvre, the Tuileries Gardens, or a boat ride on the Seine. Any other city and they are called, "Tourist Traps" – not in Paris.
More Than the Eiffel Tower
However, here are some alternative ideas for those of you wanting a different experience:
Once you've seen the Mona Lisa (along with 14,000 others), go on over to the Rodin Museum and check out the hundreds of sculptures both inside and in the gardens. Not many people do this. It's very relaxing.
After you've ridden up and down the Seine and see the wonderful bridges, wander over to the Paris Arsenal and the Canal Saint Martin. Consider taking the two and a half hour boat ride.
Yes, all of you groupies want to see Jim Morrison's grave at the Père Lachaise Cemetery. But most people miss some of the other interesting cemeteries such as the Montmartre Cemetery. You'll want to see the family gravesite of the six generations of the King's executioner, the Sanson family.
These are just some of the many alternatives to the long lines at the more familiar sites around Paris.
The series of books I'm writing on Paris are aimed at you, the traveler who loves coming back to Paris, time and time again. You're looking for alternative things to do with a flair for historical events or periods of time. The walking tours centered around the French Revolution, Medieval Paris, and the Nazi occupation of Paris are constructed not as academic history books but merely to give you a hands-on approach.
Do we have a lot of stories? Of course we do. I'm looking forward to sharing these with you. Please continue to visit our blog and perhaps subscribe so that you don't miss out on the most recent blog posts.
Thanks so much for following my blog and my little journey through this incredibly interesting process of writing a series of niche historical travel books and then getting the bloody things published.
Please note that I do not and will not take compensation from individuals or companies I mention or promote in my blog.
– Stew
Please note that I do not and will not take compensation from individuals or companies I mention or promote in my blog.
Are you following us on Facebook and Twitter?
Copyright © 2013 Stew Ross