I Prefer Blondes
For my entire life, I've always been attracted to strong women (preferably blonde). Okay, now my secret is out. So as not to get into trouble, it's the stories of strong blonde women that I'm attracted to. For some reason I turned to Virginia Postrel's article in USA Today (August 8, 2014) entitled, History's 7 Most Glamorous Women. What caught my eye was the woman she named number one: Marie Curie.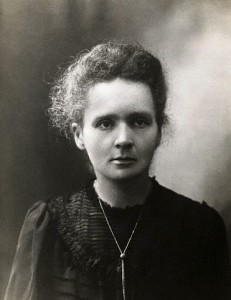 The Strong Ones 
I'm very familiar with the story of Marie Curie (#1). She was responsible for the discovery of radiation (she coined the term radioactivity) and x-rays. Madame Curie shared the 1903 Nobel Prize in physics with her husband and she won outright the 1911 Nobel Prize in Chemistry. She died in Paris (1934), likely of radiation poisoning from the x-rays she performed during World War I. Madame Curie is the only woman buried in the Pantheon based on the merits of her own achievements. Based on the pictures I've seen of Madame Curie, I would not put her in the bucket called "glamorous." By the time I got through the remaining 6 names, I figured out that by "glamorous," what Ms. Postrel really meant is "strong." While I wouldn't necessarily disagree with Ms. Postrel's identifying these individuals as strong women, I would perhaps come up with some other women to put in their place or at the very least, to join them on the list. I guess it could be a toss up between Joan Crawford (#7) and Bette Davis. Or how about Barbara Stanwyck and Mary Pickford? Clearly, this is the entertainment category.
Chanel
Coco Chanel (#4) was one of the top celebrities of her era and deservedly so based on the company she built and contribution to the fashion industry (not to mention making us all smell a little bit better). The heartburn I have here is Madame Chanel's involvement (some say, collaboration—certainly cohabitation) with the Germans during World War II and in particular, the Nazi occupation of Paris. We will visit Coco Chanel in greater detail in my fourth book, Where Did They Put the Gestapo Headquarters? —A Walking Tour of Nazi Occupied Paris (1940–1944). She lived on Rue Cambon and I will show you her original store and her apartment upstairs. I have never heard of Elsie De Wolfe (#5). Margaret Bourke-White (#3) is one of the greatest photographers in American history whereas Clare Booth Luce (#6) used many of Ms. Bourke-White's photos in the Luce's weekly periodical, Life Magazine. Last but not least, probably the most famous female aviator is Amelia Earhart (#2).
I've run across several other female aviators who contributed heavily to air transport: only they never got lost. I suppose constructing a list like this is similar to Rolling Stone magazine's Top 100 Rock Songs. I've never understood why Stairway to Heaven is always rated the top song. But then again, I've never understood why the movie, Citizen Kane is always the critic's number one choice.
Do we have a lot of stories? Of course we do. I'm looking forward to sharing these with you.
Please continue to visit our blog and perhaps subscribe so that you don't miss out on the most recent blog posts.
Thanks so much for following my blog and my little journey through this incredibly interesting process of writing a series of niche historical travel books and then getting the bloody things published.
-Stew
Please note that I do not and will not take compensation from individuals or companies I mention or promote in my blog.
Are you following us on Facebook and Twitter?
Copyright © 2014 Stew Ross