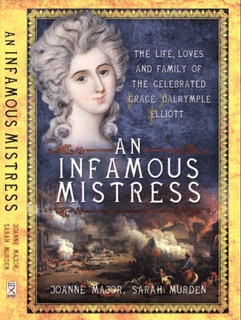 Ever since standing on the Place de la Concorde in Paris as a ten-year-old boy, I've been fascinated by the French Revolution. My first two books titled Where Did They Put the Guillotine? were about the French Revolution. As part of the research on those books, I always enjoyed reading contemporary accounts of an author's experience during those tumultuous years.
So you can imagine my excitement when I ran across Grace Dalrymple Elliott. Grace was a courtesan who had many affairs with the celebrities of their day. These included England's Prince of Wales, Louis Philippe II, Duke of Orléans (King Louis XVI's cousin), and countless earls and dukes. At the request of King George III, Grace memorialized her experiences during the French Revolution in a book titled Journal of my life during the French revolution (published posthumously).
Sarah and Joanne authored An Infamous Mistress, a biography of Grace. I can't tell you how impressed I was with what were clearly hours, days, months, and probably years of in-depth research. Grace did not leave much behind as far as written material on her life. Other than her memoir and accounts written by the daily rags in London, there wasn't a whole lot to go on. The authors present much of her story through in-depth details of her family and heritage.
Despite such shortcomings in Grace's life, I really felt like I knew her after I finished Sarah and Jo's book. They have recently published their second book A Right Royal Scandal and I can't wait to get my hands on it. The subject sounds delicious. According to Sarah, they are working hard on books three and four.
As a result of reading this book, I learned what a courtesan was. I have a feeling there were many of these women during the English Georgian era as well as other high societies around Europe.
Keep up the good work ladies!
Authors:                     Joanne Major and Sarah Murden
Date Published:       2016
Publisher:                  Pen & Sword Books Limited; South Yorkshire U.K.